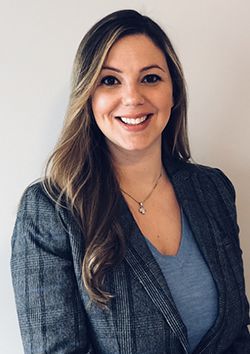 Attorney Vanessa I. Sampalis founded Sampalis Law LLC in December 2017, concentrating her practice in the areas of estate planning, real estate transactions and business law.
Ms. Sampalis is presently admitted to practice in Rhode Island state courts, as well as the U.S. District Court for the District of Rhode Island. She earned her J.D. from Roger Williams University School of Law in 2011 and successfully completed training as a certified mediator. Ms. Sampalis was also recognized by the Feinstein Center for Pro Bono & Experiential Education for her extensive public interest legal work and commitment to public service through interning with the City of Providence Law Department.
Ms. Sampalis is an active member of the Rhode Island Bar Association and the Rhode Island Women's Bar Association. Prior to opening Sampalis Law LLC, Ms. Sampalis worked for a civil litigation firm in East Providence and an estate planning firm in Cranston.
Vanessa currently resides in Cranston, Rhode Island with her husband, Demetri Ladas and daughters, Alexia and Nikoletta.
Education
Roger Williams University School of Law
Bristol, Rhode Island
Juris Doctor
Suffolk University
Boston, Massachusetts
Bachelor of Science- Political Science
Cum Laude
Professional Licensure
Rhode Island Supreme Court
U.S. District Court for the District of Rhode Island